Ringy Tunnel (TweetTweetJam entry)
Comments
Log in with itch.io to leave a comment.
WHAT lmao, that is an outrageous score! would love to see a video of your play, even if you can't get another 40 on-demand
This is art.
Super fun game.
31? Confirmed you are a robot.
lol well now i'm paranoid that i got that score with an older version when it wasn't as hard....maybe the FOV was different and the rings were visible from farther away. gonna disqualify that score, just in case - trying again a few times now, the best i got was 23, so I'm updating the description with that! lol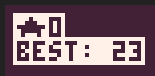 This is a really great entry, 2d! 🤩👌
Addictive as heck (assuming ur eyes handle it for long enough 😵)
Nice one, mate.
Really nice little game, and the visuals are very well incorporated into gameplay. My high score is only 11, I'll have to practice more.
I appreciate the hidden "l337" in your code, too. :)
hehehe it happened by total coincidence at first, but then some later minification caused it to change into J337, and at that point i was like whelp now i'm legally required to change the variable names to make it L337 again
ESPECIALLY because it's the "player-showoff UI" for displaying your current score!